Welcome to Pix's 3D Guide. If you are trying to decide on what 3D card to get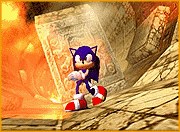 for your machine then you've come to the right place. Maybe you don't know what a 3D card is, or at least, you don't know what the fuss is about. Do you want to know which 3D card is for you? On this site I try to explain many of the terminologies you might come across when looking at 3D cards and the technologies involved, as well as giving an idea of which cards support which features and which cards have the greatest performance. Also you will find links to various other sites around that have 3D card related content.
I'd like to make it clear from the beginning that this site is geared towards 3D gaming as opposed to 3D art. In fact the focus is mainly on 3D cards themselves, although some game related information is essential when considering this kind of hardware. If you did arrive here while looking for information on 3D art/rendering or if you are power 3D application user, you might still find something useful in the 3D acceleration arena, because, many packages such as 3D Studio MAX can utilize the extra power offered by a 3D card.
I hope you enjoy this site. If you have anything in the way of praise, criticism or tips please e-mail me using the Site Info. section or to this address - traxxion@hotmail.com . Thanks for visiting.